Earth's fate is inextricably linked to 52 nations threatened by rising sea levels – the rest of the world should not let them drown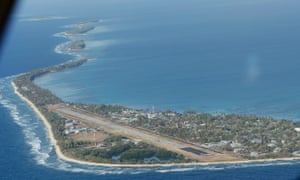 Many of the planet's most prized destinations, places considered exquisite and idyllic, where nature seems bountiful and people appear at ease, are under threat. In less than a decade, climate change-induced sea level rise could force thousands of people to migrate from some of the world's 52 small island developing states (Sids).
How Sids respond to threats such as sea level rise, and the degree of support they receive, is indicative of how we, collectively, will adapt to a host of climate change impacts in the coming decades.
When we think of Sids, we may be tempted to imagine small patches of paradise scattered with lightly populated fishing villages, unfettered by the demands of modernity. In fact, almost one in every 100 of us is from a small island developing state.
Sids boast a diversity of cultures, natural resources, biodiversity, and indigenous knowledge that makes them mainstays of our planetary ecosystem. From the multi-billion dollar economy of Singapore, to Papua New Guinea, one of the least explored countries in the world where 1,000 cultural groups are thought to exist, to the very remote Niue, which is one of the world's largest coral islands – each small island developing state is endowed with its own unique attributes.
Yet what they increasingly share in common are escalating environmental threats that are further aggravated by economic insecurities. Sea level rise is among the most daunting of these threats, which in some regions is up to four times the global average.
According to recent Intergovernmental Panel on Climate Change estimates, if average global temperatures increase by approximately 4C, sea levels could rise as much as one metre by 2100, a scenario that would see nations such as Kiribati, Maldives, Marshall Islands and Tuvalu become uninhabitable, while a large share of the population of many other Sids could be displaced or otherwise.
What makes this situation even more grievous is that the climate change threats facing many Sids are by-and-large not of their own making. Their total combined annual carbon dioxide output, although rising, accounts for less than 1% of global emissions.
Sids are suffering disproportionately from acts of environmental negligence of which we are collectively guilty. Larger economies, until recently, have managed better than small ones to mask the impacts of exhausting their natural capital and contributing heavily to greenhouse gas emissions, but the consequences of this neglect are catching up with them too.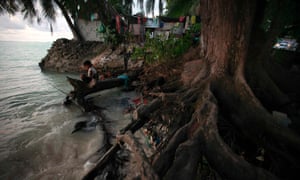 Responses to these threats that apply the business-as-usual economic models that have brought them to the state of economic and environmental vulnerability they are in today will be temporary at best, and catastrophic at worst. That is why Sids are beginning to take the first steps on a blue-green economy transition – a strategy that targets resource efficiency and clean technology, is carbon neutral and socially inclusive, will provide a healthy environment and help conserve resources, while integrating traditional knowledge and giving priority to island community and culture that will build their resilience to the impacts of climate change.
But we should not look at climate change threats in isolation from other influenced by human activities, because climate change is in fact exacerbating problems that we have already created, such as desertification, biodiversity loss, and food insecurity.
Take the degradation of marine ecosystems as an example. A number of studies show that it is overfishing that currently outweighs all other human impacts on marine ecosystems, including climate change. With Sids accounting for seven out of 10 of the world's countries most dependent on fish and seafood consumption, reducing emissions alone will not be enough to ensure a sufficient supply of fish in the future.
The governments of these small island states are recognising that many policies of the past have left them ill-prepared to respond to the impacts of climate change, and it is this awareness that is motivating them to make sustainable economic growth the cornerstone of their development.
The energy sector, where they are leading the switch to renewables, is a prime example of necessity driving innovation and change. On average, Pacific island households spend approximately 20% of their household income on energy, and can often pay up to 400% more per kilowatt-hour of electricity than the United States.
As a result, many states are now developing their domestic renewable energy markets. For instance, the small South Pacific island of Tokelau is close to meeting 100% of its energy needs through renewables – even powering generators with locally produced coconut biofuel.
And Barbados, already the leading producer of solar water heaters in the Caribbean, is set to save an estimated $283.5m (£171m) through a 29% switch to renewables by 2029.
From valuing and managing their natural resources, to putting the right incentives in place to switch to renewable energy, Sids are leading the blue-green economy transition. And next week, at the third international conference on Sids in Samoa, they will reaffirm their commitment to advancing national sustainable development goals in front of a global audience. What they need from the rest of the world is the solidarity, technologies, and resources to act on that commitment on a scale that will radically change their fortunes.
It is hoped that the new international climate change agreement currently being negotiated, and which will be adopted at the Paris conference in 2015, might help to relieve some of their economic burden of adapting to the impacts of climate change, while also reducing the severity of the impacts by reducing global greenhouse gas emissions.
Supporting Sids on this journey of transition provides an unprecedented opportunity to be part of game-changing socioeconomic solutions that can be applied in broader contexts and bigger economies.
We should look upon Sids as microcosms of our larger society, and not stand back and allow them to grapple with a threat for which they are largely inculpable.
Source: https://www.theguardian.com/